Weekly Alignments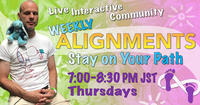 Thursday nights, 7pm Japan time (UTC+9) via Zoom.
For adults to connect with their inner child and inner power
Men and women welcome
Subscribe below to book your place
In the private Zoom group, deeply explore in a clear way that keeps you safe and can be paused at any point as you have full control of the process.
Discover your inner truth. Let it be your guide
Activate all parts of yourself
Move smoothly between roles in your life
Learn when to cut clean and when to lean in
Watch or listen to the free livestreams to get a sense of the material:
Healing Your Inner Child (Understand your inner child. Meet your inner child and discover what they need. Learn 3 simple steps to recovering your inner power.)
Finding Your Life Purpose (Discover how unmet needs saps your energy. Find what brings your inner power back into your life!)
Regain Control of Your Life (Discover patterns from the highest possible perspective. Experience life outside of time itself. Learn who you are within time.)
Safe space
All attendees must agree to uphold our Agreements.
Costs (for four meetings each month)
Unsubscribe anytime.
After subscribing, simply register to access the meeting.
Upcoming Schedule
We meet 7pm - ~8:30pm JST, every Thursday except 5th Thursdays of a month.
Here is the first month plan, starting November 26th, 2020:
Nov 26th: Interactive look at life from outside of Time. We will move in and out of different locations in our (life)time-space continuum. Find your deepest desire

Dec 3rd: Who are we without our past self or future self? What opportunities does this awareness offer?

Dec 10th: Listening to our Self in realtime. How do we stay connected to higher self voice when things are going awry?

Dec 17th: What parts of ourselves can we release as we go into 2021? What will we have to give up? What can we gain?

Dec 24th: What have we learned from 2020? How will we show up for ourselves from now onward?

Dec 31st: (no session on 5th Thursdays) Be well!
Going forward, the curriculum will adjust based on attendee questions and input. Lots of clarity and positive energy assured!
Questions
Questions are welcome via email to rob (AT)robnugen.com or via the contact form.