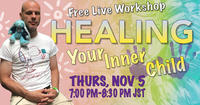 Healing your inner child live workshop
🙂 Understand how your inner child got there.
🤓 Meet your inner child and discover what they need.
😎 Learn 3 simple steps to recovering your inner power.
👉 Taking care of your inner child takes care of you! 👈
Reclaim your power you gave up as a child.
This was the first of 3 free workshops done on the next three Thursdays 7pm JST, livestreamed at https://www.facebook.com/barefootrob.
Watch the replay here!