(recorded 07:14 Tuesday 30 June 2020 JST)
I just walked to Yomiuriland and took some pictures!
I'm very happy because it's proving that my walk is definitely possible.
There were some signs of how they are dealing with COVID-19
I plan to visit the hot springs near Yomiuriland on April 13th, 2021.
I just noticed this wall near two big old trees that surrounded an entrance to a house that has been torn down.
Sign next to steps to water supply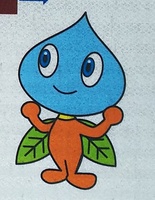 Lots of ads for some sort of community center, I think