(written 18:17 Thursday 01 October 2020 JST)
My computer is beginning to act up more often, freeze while Zooming, and not let me type nor use the mouse, and eject the USB hard drives without me touching anything.
The issue with hard drive and keyboard could both be issues with USB. Not sure about the freezes while Zooming. It's getting time to seriously look at buying a new machine.
Today I did two TLBS things: accountability session with Susan and a webinar about decisions with Col
Also went to SCC for three lessons: Naoko, Mirika, and Yasu. Got to see a cool new sensor that monitors an eighty-one square meter area.
I chatted to Colleenie Bean Dawg on the way to Kawasaki, and then jumped on a video call with her until greeting Liliko at the entrance to SCC.
I've got 166 million cookies in Cookie Clicker 2, with cookies coming in at 24,022 per second.
Lin just installed Windows 10 on her Surface and is now thereby able to print to our laser printer without my intervention.
We signed up for faster internet and the guy is scheduled to come tomorrow to set it up. He's gonna have to crawl under the desk because I ain't moving the printer and stuff. I will clean a path to the location but that's all I plan to do.
With our current provider, I just got 83.5 Mbps download and 82.63 Mbps upload. https://www.speedtest.net/result/10177523893 This is the fastest I have seen with this provider. Click the image to see the history of my speedtest.net tests.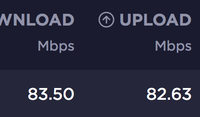 Today I finished day 21 of 30 in my Design Your Day Livestreams on FB. Each day we do one or two daily actions aligned with our heart focus to achieve compounding success toward our highest ideal.
Wow the 7:30 face-to-face-on-Zoom version has been going for 3 months and counting!
I've been doing well studying Japanese via KUMON recently. For the past two weeks or so I have done an average of 5+ pages each day.
Lin and I recently watched The Incredible Hulk, in our quest to watch all the Marvel Comics Universe movies in order. I had skipped it because it looked predictable. I wasn't entirely wrong.
My keyboard has stopped accepting input no fewer than three times since I complained about it up above. I am currently using voice transcription to type this. It's doing a fair job, but not really great.
The keyboard is suddenly working again now, but my hands hurt so I don't want to type. It is easier to deal with the typos than to type everything.
In Duolingo, I survived my first week in the Obsidian league, but not sure I will be able to hang with these guys. I had to resort to practicing my proverbial ABCs in order to score enough points. This is not a great use of my time, not that that has stopped me from doing things like Cookie Clicker
Yikes I gotta do my September billing for AB. Bye for now.