(written 22:56 Saturday 01 August 2020 JST)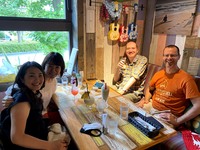 Rie and Carl came to our station to hang out after our first plan to do so was scuttled by Covid-19. We went to Kona Coffee (コロナコーヒー? haha) and gorged slightly while chatting. I had two banana smoothies and avocado loco moco. Pretty good, but one banana smoothie was enough.
Interesting to hear about Carl's work doing video editing. He and I also talked about video games and men's circle stuff a bit. He and Lin talked about their favorite horror movies (!). Great to see Rie and Lin super happy to hang out together.