We walked somewhat aimlessly along one side of the park where we met a cat name Riki, who has apparently been there since he was a kitten, around the time we were there last (not that we knew him then).
Mohamed arrived while I was in meditation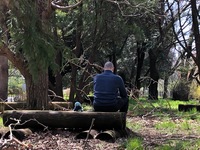 We got crepes near a kids park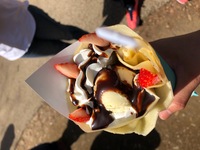 Francois and I on roller slide
Near the star pyramid, I found a tree I could climb.
Hiro, Yoshi, and Ia arrived while I was in the tree.
They led the walk for a while and found a Japanese garden with a shelter by a lake.
We also got some pictures of the lake.
Basking in the sun hoping not to fall asleep I heard Mohamed's reminder that I was headed for a sunburn if I stayed there too long. We got up and got a picture.
Great day with great friends!