Jason is coming over soon. Yay!
23:03 Thursday 10 October 2019 CDT
Haha great time with Jason, hanging out at Five Guys free peanut place where they also sell burgers and give away a lot of bag fries with every tiny cup of fries sold.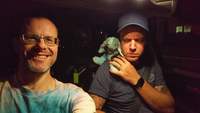 Great to hear how well he's doing with his Urban Lumber business, Helmwood.