16:45 Friday 30 August 2019 JST
Several different things on my day off today. Mostly related to work, where I realized the value of having a staging server with non-live data. "Ohhh that is right; I tested saving data as well.." when AB was like, "Um, where is the Azabujuban record?" which had been renamed to "Doraemon 5e5433a38e2b035689a75c9ed11ffb0e"
Once I fixed all of those (about 8 different records) based on the old live DB which is still available at cli with mysql as root, I watched episode 3 of The Naked Director.
This show is somewhat a comedy, but fills in my imagination of the heady days before the bubble burst here in Japan. I sometimes wonder what it could have been like then, and this gives me a sense that I would not have necessarily been better off for being here then. Interesting to watch, though, and practice listening to Japanese.
I tried to do some more work, but was leaning toward porn after having watched a shows which leans toward porn, so I took a nap.
Woke up and wrote down a dream about unstoppable trains.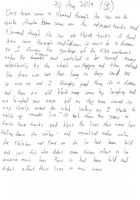 And as I write this, I see the messy image and realize if I ever clean up those images, I hope I either create redirects or think to fix the links here.
Mohamed asked the URL for my journal, which is nice timing because today is the first day for me to use ROBOT pages from August 29th, which include writing a journal entry by default. Again, this directory and file structure leaves a lot to be desired. https://b.robnugen.com/robot/2019/
I want to have OCR determine the dates of the pages and rename the files based on those dates. I have considered posting each page in this journal stream, but I think it would be better to make an RSS feed of them (but it would not get updated with each scan (if it was tied only into this repo of entries)). It should be a different RSS feed, built just for b.robnugen.com